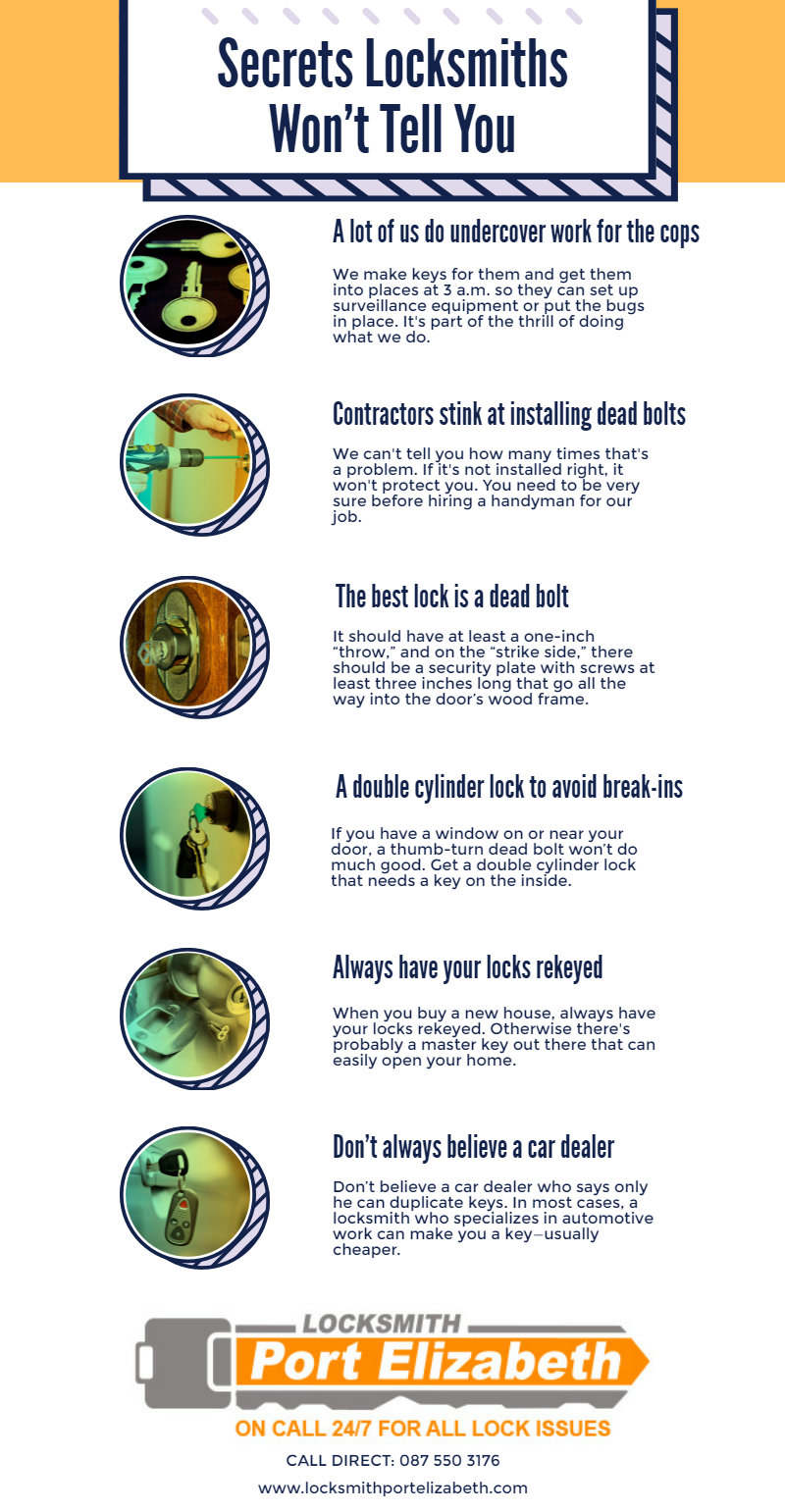 There are usually plenty of locksmith do's and don'ts in the market today. Some of them tell you which lock will offer you top security while others tell you the best dealers or contractors near you. However, when all is said and done, despite how much what you read influences your judgment; you are the ultimate decision maker. Here are a few facts that you probably need to know about locksmiths.
Apart from making new keys when the clients lose theirs or replacing locks feared not to be safe enough, locksmiths also do some undercover jobs for cops. Although this may seem controversial, it helps to keep homes and businesses safer because those who go against the law can be easily caught up with using the help of locksmiths.
Another fact is that despite the claims and advertising that you see from different contractors about how they will install deadbolts for you; the truth is that most of them suck at it. They will have it installed the wrong way and you will be unsafe as if you did not have the deadbolt installed in the first place. To avoid this, always do your homework and this will help you to pick a reliable and qualified locksmith. On the same note, despite all the different kinds of locks that are available in the market today, the deadbolt remains your best bet at keeping your home secure. To make sure that it will provide the security you need, it should have more than one- inch "throw" and on the "strike side", there should be security screws that are at least 3 inches in length.
If you chose to install a deadbolt and your door is partly made of glass or there happens to be a window near the door, you should go for the double cylinder locks. A thumb turn bolt on the inside in this case will make you prone to break-ins. However, with a double cylinder, always remember to keep a key near the door for emergencies, but out of sight to intruders.
The locks in new houses should also be treated with caution, since you have no idea whether the previous owner has a spare key, have the locks re-keyed especially for the outside doors. Another thing that you probably didn't know is that just about any locksmith can make you a duplicate key for any car. This is despite the claim by car dealers that they are the only ones who can make you one. They will charge you heftily for their services yet you can still get similar services at a cheaper price from a qualified locksmith.
Get all the locksmith services you require from the best locksmiths in Port Elizabeth. With years of providing locksmith services in this region, our reputation and growing customer base speak volumes. Whether you require residential, commercial or car locksmith services, we are the right team to call. All our workers meet the set standards for locksmiths, which ensure that our customers get to work with the best. To get reliable and fast services in Port Elizabeth, call us on 087 550 3176 or visit our website at https://www.locksmithportelizabeth.com for more information.